Yesterday turned out surprisingly well for all the baditude I started off with.

I think the early morning spider was a ~sign~. No, I'm NOT going to post that picture here, egads.
I have absolutely no Easter plans. We used to have big Easter fun when the girls were younger, but I've been on break for a few years now, and I figure I can get away with one more year off before I have to step up again. Don't get me wrong, I like Easter just fine, but this is my fave ever graphic I found years ago. Ok, I thought I had the *original* original of this version that had a very squashed wild rabbit skin actually smeared and dried up on the highway and the basket contents weren't so elaborated and looked more like a real hit, guess it's lost to interweb antiquity, but this newer version will make the same point.
Now I'm going to be obsessed with finding the old original. If I find it I'll post it. And I take that 'no plans' thing back, I'll be making my annual spring coconut cake for the big get together at Scott's mom's house, but other than that, no plans besides watching burrito go through her first Easter and never remember it again, lol.
My own burrito was brought by the Easter bunny many years ago.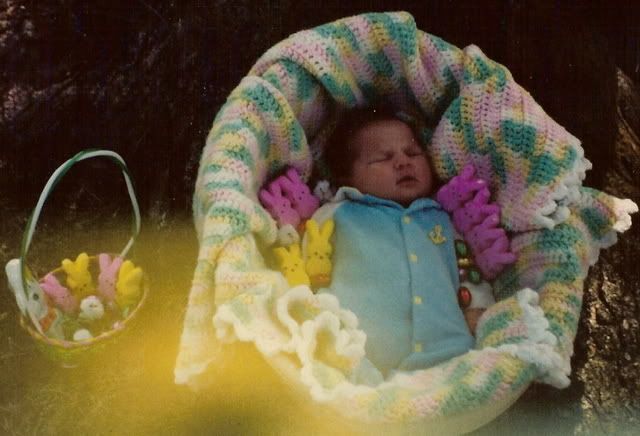 In the meantime, the chicken stress is going outa control this week, and you know what means, I have to blog about it, and that first post link will come up automatically on the twitters and across my other medias when I publish it. I know from my stats that nearly 23% of you can't see this post I'm writing right now on your phones, but the chicken blog ~will have mobile viewing~. In the meantime, Xanga had awesome mobile viewing before the big server migration, and I'm pretty sure will again, so I'm not going to fret about a handful of people still trying to view my Pinky blog on a teeny tiny screen instead of watching the road or whatevs. If I can be patient through all this huge life disruption, you can too.
WO! O_O I did it!!! I've been trying to capture this awesome vid for two years. Charlie Sheen is my fave old guy. Click this to see the coolest thing he's ever done besides Men At Work.
Yeah yeah, time to GET TO WORK! >=l My life is a tomato winning salad, lol.